LAY-ON MESH CEILING
Expanded Metal Mesh Ceiling is an increasingly required material for its more refined industrial look as an alternative Option to
Exposed soffit given an architectural and aesthetic appearance of the ceiling. It can be used in different sectors. Mesh Ceiling is
compatible with GTI Ceiling systems and can incorporate with other type of ceiling. GTI Mesh is available in diamond mesh pattern
and full range of RAL Colours.
Exposed Suspension System 24 mm
| | | | |
| --- | --- | --- | --- |
| Reference | Dimensions(mm) | Thickness(mm) | Quantity Box |
| GTLI6060 | 600 x 600 | G.I Steel - 1.5 | |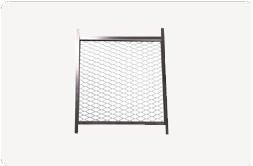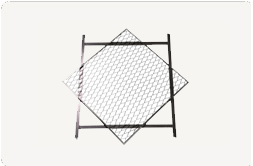 Exposed Suspension System 24 mm
| | |
| --- | --- |
| Material | Galvanized steel : BS EN 10346:2009/ASTM A 1003M CS Type A/ASTM A 653M Manufactured to : BS EN 13658-182 / ASTM C847 |
| Surface Finish | Diamond Pattern |
| Edge Details | Square Edge |
| color | RAL 9005 ( Black Color ) other colors available upon request. |
| Coating Finish | Polyester Powder Coating Conform to BSEN 12206-1:2004,ASTM D3363,ASTM D2794 and tested as per: BSEN 13964: 2004 Norms. Coating Thickness : 60-80microns |
| Fire Classification | Class 1 Surface spread of flame as per: BS 476: Part 7 : 1997 Class A Surface spread of flame as per: ASTM E84 -16 |
| Light Reflectance | Depend on the orientation of the mesh and the viewing location |
| Corrosions Resistance | Salt spray Tested for 1000hrs corrosion protection as per ASTM B 117-73 |
| Humidity Resistance | 1000hrs, tested According to ECCA and EN 1396 Norms, ASTM D 2247, HR : 95% |
| Acoustic Performance | Acoustic Infill to improve acoustic performance - Mineral Fiber (Optional) - Soft Fiber (Optional) |
| Suspension System Components | Exposed T- Grid Suspension System all steel parts finishes are chemically cleaned, galvanized steel comply to ASTMC 635M. |
| Components | Main Tee (3.60mm), Cross Tee (1.2mm), Cross Tee (0.6mm) , Wall Angle L 24x24 (3000mm) |
| Application | Restaurant, Public Areas , Reception , Lobbies , Office Space , Airport |
METHOD STATEMENT FOR SUSPENDED CEILING INSTALLATION
Installation performance of suspended ceiling components must conform to ASTM C 635M / ASTM 636M (direct hung metal
suspension system) Suspended ceiling material should be installed in areas weather tight, works, & services above the ceiling
levels should be completed. The materials should be under normal atmospheric conditions before, during and after installation
as well during the storage of materials.
Step 1
Fixing of Suspension System
– Level marking on wall for suspended ceiling level using
accurate proper equipment.
– Ensure that all MEP fitting are installed and get
approved prior to start of alse ceiling installation and civil
works should be finished & approved.
– Approved shop drawings shall be followed for installation of the ceiling tiles/panels.
– Location of the suspension components shall be
finalized.
– Tie Wire Anchor M6 shall be fixed to the structural soffit
at space of 12001mm C/C with starting point maximum
250mm from the wall.
– In areas where fixing of ceiling hanger is not possible
due to dense MEP services, additional bridging/cross
bracing shall be fixed below the services and
suspension hanger shall be hanged from it without
affecting approved level.
Step 2
Leveling and Fixing of
Wall Angles/Perimeter Trims
– Finished floor level marking shall be marked at several
locations using levelling instrument
– Based on available approved finished floor levels,
desired false ceiling levels shall be marked on
perimeter walls.
– Fix wall angles/perimeter trim on the marked line by
using screws of 25mm length or concrete nails, spacing
@ 300mm c/c at 100mm from the wall on both sides.
Step 3
Complete the Grid
Mark the required distance intervals then proceed to
fix the grid suspension system Main Tee, Gloss Tee's
according to the approved layout to make
600 x 600mm grid module.
Step 4
Attach the Hanging Support
Fixing vertically Hanging Wires 3mm/4mm with Adjustable
Clip connected to the soffit slab using Tie Wire Anchor M6,
and connected directly to the primary Main Tee.
Step 5
Opening of MEP Services
When the suspension system is ready and the final levels
are adjusted, the tiles can be fixed by laying on 600×600
module created by the grid system.
– Initially only the service tiles will be fixed so that die MEP
contractors shall mark the openings for services in the
ceiling tiles as per approved shop drawings allowing to cut
the respective openings.
Step 6
Closing of Ceiling Tiles
– After the cuttings of service openings are completed the
MEP Contractor shall install all the services as per
approved layouts.
– Final clearance shall be obtained from MEP Contractor
as a standard process prior to starting closing of ceiling.
– After receiving the clearance for closing of ceiling, tile
installed suspension system shall be checked for levels
and alignment and if necessary, it shall be adjusted for
final installation.
– When the suspension system is ready and final levels
adjusted, all the ceiling panels will be installed by laying
on 600x600mm module created by already installed grid
system.