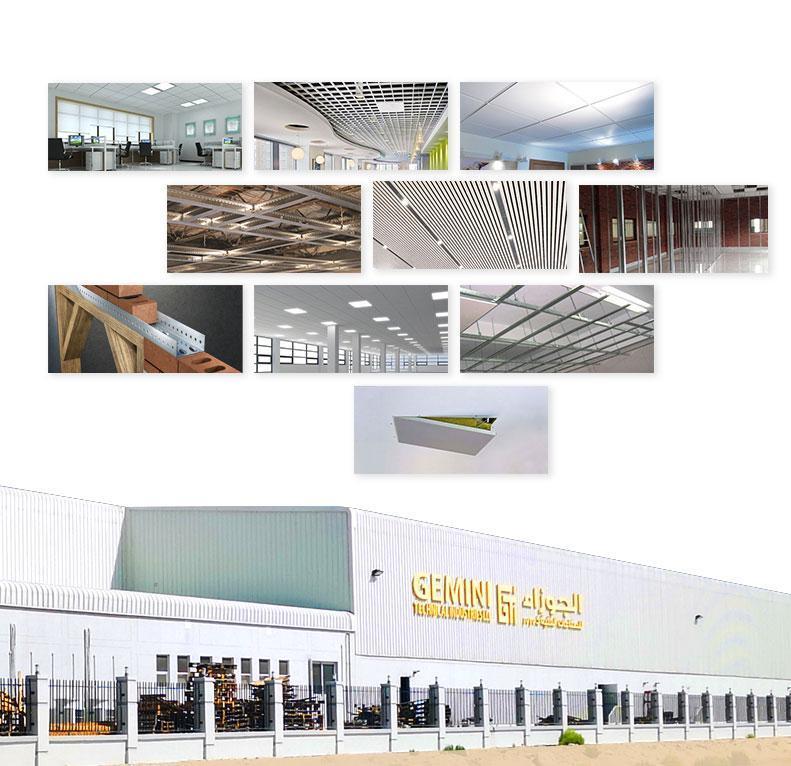 WELCOME TO
GEMINI TECHNICAL INDUSTRIES
GTI is a recognized manufacturer of quality building materials in GCC and specialized in Metal Processing Products & Ceiling Suspension Systems.
Located in KIZAD, Abu Dhabi, U.A.E, the GTI manufacturing facility covers almost 24500 square meters. The facility features state-of-the-art machinery including fast, high-quality roll-forming machines as well as specialized equipment for pressing, bending, and notching. The facility's current annual production capacity is over 30,000 tons of galvanized iron (GI) and 5000 tons of Aluminum.
The modern facility and sizeable warehouse combined with the strategic location, which affords unparalleled access to the UAE and GCC road network and shipping lines, assures our customers of on-time delivery and sufficient supplies
GTI materials for interiors are built to fit above the global standards, with high level of quality, consistency and reliability as expected from a world-class brand at a price suited to your requirements.
GEMINI TECHNICAL INDUSTRIES
Our Products
Gemini Technical Industries (GTI) is the manufacturing extension of Gemini Building Materials (GBM), one of the leading importers and traders of building materials in the region, including interior decoration and services.
Quality, Environment And Occupational
Health And Safety Management System Policy
Gemini Technical industries is dedicated to the quality aspects which ensure that its product and service fully meet the requirements of its customers. Our main priorities are efficiency and customer satisfaction.
To this end, Gemini Technical Industries is committed to undertake the following:
Approved by authorization from Abu Dhabi OSH Center Industrial Development Bureau-Department of Economic Development certifies that GTI has met all the minimum requirement of Occupational Safety and Health System Framework (OSHAD-SF)
Where believing & achieving happen together
Accreditations Labs & Membership